[Computers.Windows] Neowin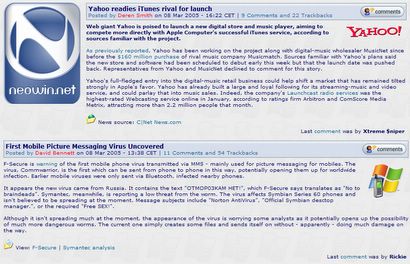 neowin.net

Neowin is run by many people as an extended hobby, the goal is to give visitors a premium browsing experience along with some helpful tips on Windows operating systems.
This site has been one of the top Windows news sites for years now. The cover all kinds of Microsoft products and technologies as well as software for Windows.
One of my favorite pieces of the whole site is a place in their huge forum called
Back Page News
where members report on the newest software and technologies.
Site
Main News:
http://www.neowin.net
Software News:
http://www.neowin.net/index.php?category=software
Gamers News:
http://www.neowin.net/index.php?category=gamers
Feeds
Main News:
http://www.neowin.net/backend.php?page=main
Software News:
http://www.neowin.net/backend.php?page=software
Gamers News:
http://www.neowin.net/backend.php?page=gamers