[News.Tech] Digg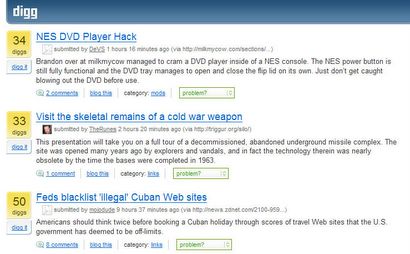 digg.com

Digg is a technology news website that combines social bookmarking, dynamic social RSS, and non-hierarchical editorial control. With digg, users submit stories for review, but rather than allowing an editor to decide which stories go on the homepage, the users do.
I've had this site in the queue since I began blogging sites again in June because I there were rumors that they were moving to version 2.0 floating about. While it finally happened on Sunday and so I give you, the new Digg 2.0.
Oh, so what is Digg you ask? Well it's the hottest new thing in tech news because it's user driven and therefor constantly updated. Users submit links and short descriptions and then they "digg" (vote) for links they find interesting. Then of course you can comment on this news which gives it the whole community thing, which is one of the big draws for me.
Check me out
, I'm currently ranked #23, and don't forget to get your
free Slurpee today at 7-11
.
Site:
http://www.digg.com
Feed:
http://www.digg.com/rss/index.xml
(You can also find a feed to just about any page on the site.)