[News/Humor] Fark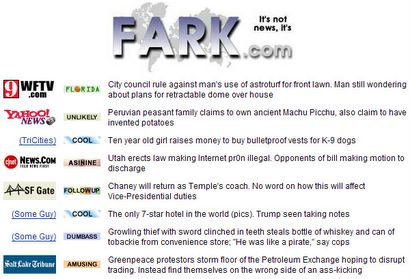 fark.com

It's not news, it's Fark.com
I would think by now that everyone on the Internet would know about Fark, but I'm constantly throwing out references to events I read about on Fark that leave people with a blank stare. Simply described Fark is a bunch of funny, clever and irreverent links to major, minor and amusing news on the Net. It has an enormous community of followers who come up with these great headlines and then discuss the worlds happenings in the comment threads.
I've been a
Farker since July of 2001
and I think I've stopped by just about everyday since I signed up.
Site:
http://www.fark.com
Feed:
http://www.fark.com/fark.rss