[Culture.Internet] kottke.org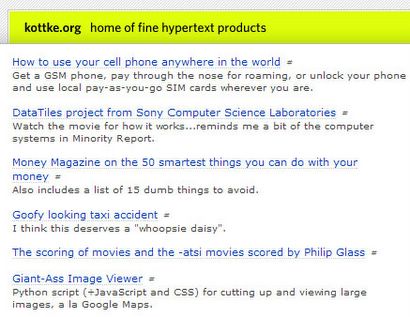 kottke.org

Jason Kottke designs, codes, and writes for the web live from New York City, with a special interest in microcontent, the writable web, and clear, simple, user-centered design.

Jason has maintained the popular and influential weblog kottke.org since March 1998, writing about web technology, photography, media, design, the writable web, and science. He recently switched from doing the site in his spare time to editing/writing it full-time.
Simply stated this site is a personal blog specializing in interesting news. Kottke's been doing this for 7 years and he recently made big news (while, big in blogosphere terms) when he decided to quit his job and blog full time.
That's about the time this site found a permanent place in my bookmarks and since then I've been very impressed with his findings and ponderings. My favorite parts of kottke.org are the wealth of intellectual article links, book reviews/previews, and Internet news commentary.
Site:
http://www.kottke.org
Feeds
Main Blog:
http://www.kottke.org/index.xml
Just the Links:
http://www.kottke.org/remainder/index.rdf